---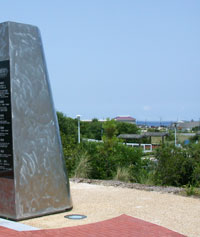 The Monument is situated on a high hill overlooking the ocean and the Aycock Brown Welcome Center.
Set against the open sky of Kitty Hawk on the Outer Banks of North Carolina, where flight began, the Monument to a Century of Flight provides a reflective and contemplative environment. It is surrounded by the simple beauty of the barrier island's natural vegetation and looks out toward the waters of the Atlantic.
The site is state-owned land adjoining the Aycock Brown Welcome Center and is provided by the North Carolina Department of Transportation and possible because of a gifting of property by Billy and Mildred Roughton. The Monument is maintained as a public park, open and accessible to all without admission charge.